This is a Sponsored post written by me on behalf of
StyleMint
for
SocialSpark
. All opinions are 100% mine.
I'm one of those people that's always over dressed. No matter how hard I try, I can never seem to pull off casual without looking, well, frumpy. The right fitting T Shirt is hard to find, and unique designs at affordable prices? (sorry, I'm not dropping 60 bucks on a T Shirt, it's just not happening!) My go to style advisor is People Style Watch magazine, the stars seem to pull off the casual yet trendy look all the time! But the magazine doesn't come to the mall with me and say "Here! this is your style, your size, and this is how to wear it". But now, Mary-Kate Olson and Ashley Olson are solving my problem through
StyleMint
a T Shirt centered fashion website that not only has fun unique designs from the fashion icons Mary-Kate and Ashley themselves, but they personally shop for you based on a quick quiz and all the T Shirts are $29.99!
Here are the top pick results from my style quiz, remember, I'm the over dressed type, so my choices were typically more tailored and dressy in the quiz. I love what they came up with, and this was just a fraction of the suggestions!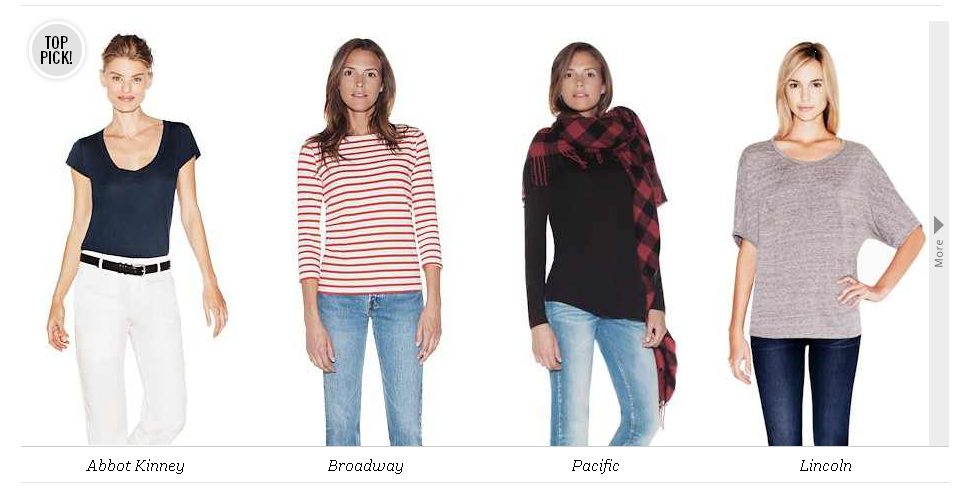 Once I clicked on an option I liked (already knowing it was going to be totally affordable at less than $30!) I was able to choose from different colors and read suggestions on what to wear it with!!!! No more little black bar over MY face LOL. You will be rocking fab outfits like this-
Did I mention there is FREE shipping?! Plus, use code
IZSTLYE10
for 10% off your first purchase. It only takes a second to register and there is no obligation to buy. There are new styles every month and all the T Shirts are made of premium cotton.
I'd love to stay and chat, but I'm off to StyleMint for some more great finds! What's your favorite way to wear a T Shirt?